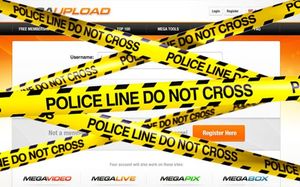 A federal judge is considering how legitimate users of the Megaupload online storage site may be allowed access to files hosted on seized servers, but Hollywood is still adamant about doing everything possible to prevent that from happening.
Kyle Goodwin says he uploaded personal files to the Megaupload.com cyber locker that were vital to his small business, but he's been unable to access that data ever since authorities shut-down the site and arrested its founder, Kim Dotcom of New Zealand, in January. Ten months after the fact, Goodwin can't access his files and is now being represented by attorneys from the Electronic Frontier Foundation.
"The government engaged in a overbroad seizure, denying Mr. Goodwin access to his data, along with likely millions of others who have never been accused of wrongdoing," EFF staff attorney Julie Samuels says in a statement this week. "Access to the government's warrant application and related materials can help us learn how this could have happened and provide assistance in our efforts to get Mr. Goodwin his property back."
A judge is now being tasked with deciding if those court files can be opened to assess the situation fully, but the Hollywood bigwigs who were opposed to the site say that might not be the best idea.