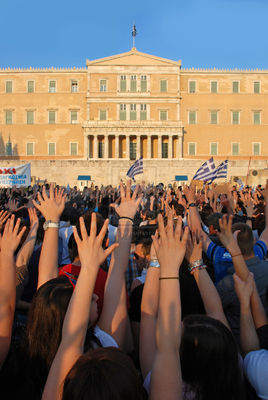 Greece has been plunged into further political instability after party leaders failed to agree on the formation of a national unity government that could steer the insolvent country through its worst crisis in modern times.
Nine days after inconclusive elections, the leaders announced they had been unable to forge the necessary consensus to create a coalition during emergency talks on Tuesday led by the president, Karolos Papoulias.
The collapse of talks, after a week of abortive attempts by individual leaders to form an administration, sent global financial markets diving.
Attributing the breakdown to "petty party interests", Evangelos Venizelos, who heads the socialist Pasok party, said the only way out of the impasse was to hold fresh elections next month.
The new poll is expected to be announced on Wednesday and will take place on 10 or 17 June, officials said.
A caretaker government will replace the outgoing left-right coalition, led by the technocrat banker Lucas Papademos, as the nation prepares for another round of election campaigning.
"Unfortunately the country is being led again to elections ... under very bad conditions," said Venizelos, adding that he hoped the next decision of Greek voters would be "more mature".