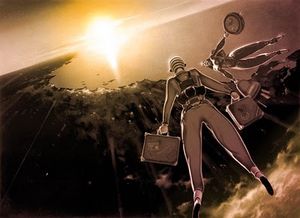 Because on December 12, 2000, the United States Supreme Court nullified the results of a national election and installed George W. Bush as president. And then I saw millions of my fellow Americans deliriously happy the Rule of Law was broken by the Supreme Court of the Land so "their guy" could ... "win."
That's when I knew partisanship had ultimately won out over reality. More Americans believe in angels than election fraud. If millions of Americans could turn a blind eye to a stolen election, simply because their side stole it, and then have that coup legitimized by not only the Supreme Court ... but by all of MainStreamMedia ... then I knew the country I lived in was not the land of my birth.
I can't emphasize this enough. Millions of Americans were ecstatic that George W. Bush won regardless of how he won. Unquestioning blind partisanship was more important than the law to these people. But more ominous was MainStreamMedia ratifying the coup. At that moment Corporate Media proved they were committed to the destruction of our democratic republic.