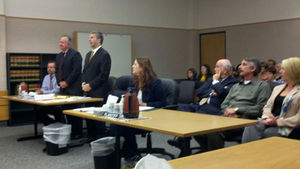 Tacoma - Leaders of the Washington state's third-largest school district are asking a judge to order hundreds of striking teachers back to work as thousands of students spend a second day out of class. A Superior Court hearing began Wednesday morning on the Tacoma School District's request for an injunction to order nearly 1,900 teachers back to work. The district contends that public employees cannot legally strike under state law. Tacoma Education Association spokesman Rich Wood says union lawyers will be ready with a response. Classes have been canceled for Tacoma's 28,000 students since the strike began Tuesday. Strike issues include teacher pay, class size and the way the district's teachers are transferred and reassigned. Tacoma teachers had been working without a contract since school started Sept. 1.
About 350 teachers were on the picket lines outside of Jason Lee Middle School Wednesday morning.
"As a teacher though I want my students to challenge the
status quo
, I want them be advocates for themselves and strong members of the community," said Andy Coon, president of the Tacoma teachers union. "There is a time when we want them to stand up to a bully, and that's what we're doing."
"I think the district is totally not negotiating in good faith," said Elizabeth Cruz, teacher. "They put us in this position."