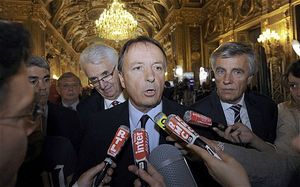 President Nicolas Sarkozy's conservative party loses its majority in upper house for the first time in more than 50 years
France's left wrested the Senate from the right in indirect elections on Sunday, taking the majority of seats in the upper house of parliament for the first time in more than 50 years - a blow to conservative president Nicolas Sarkozy.
Seven months before presidential elections, Sarkozy's party downplayed what it said was a narrow win - up to three seats, according to officials from the president's party.
The minister for parliamentary relations, Patrick Ollier, said the results had "no national political significance". Final results of the voting to fill half the seats in the 348-seat house were not in, but the Socialist party leader in the Senate announced the victory.
"This is a day that will mark history," Jean-Pierre Bel, head of the Senate's Socialist party, said.