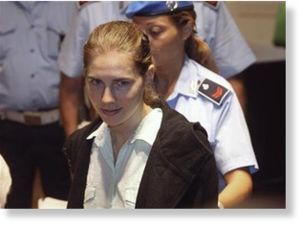 Amanda Knox is at heart a "she-devil" who loved to play dangerous games, the lawyer for a man falsely accused by the American student of killing her roommate told an Italian court on Monday.
"Amanda is one thing and another -- that is, both Saint Maria Goretti and a satanic, diabolic she-devil given to borderline behavior," Carlo Pacelli said, referring to a Catholic saint linked to purity, young women and rape victims.
Knox and her Italian ex-boyfriend Raffaele Sollecito are appealing their 2009 convictions for the murder of 21-year-old Briton Meredith Kercher during a drug-fueled sexual assault in Perugia in 2007.
The student from Seattle initially accused Congolese bar owner Patrick Lumumba of killing Kercher, whose half-naked body was found with a deep stab wound in the throat.