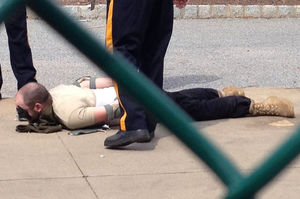 The attorney for a New Jersey man dressed in a superhero outfit when he was arrested last Wednesday thinks police overreacted.
William Ware characterized the arrest of Matthew Argintar as "a classic case of overkill."
Police said Argintar, 23, was wearing a mask, a bulletproof vest, elbow and arm pads, a cape and carrying handcuffs when he was arrested July 31 outside the Home Depot on Route 57.
"I'm not aware of anything in the law that would prohibit anyone from dressing how they choose to dress," William Ware told
CBSNewYork
. Ware is representing Argintar.
"Whether he was in a tuxedo, scuba outfit, or however he was dressed that day, there's nothing preventing anyone from dressing how they choose."
Police charged Argintar with disorderly conduct and unlawful possession of handcuffs. If convicted, Argintar could face up to seven months in county jail.