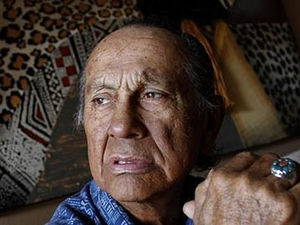 Over a year ago, he knew he had inoperable esophageal cancer. It spread to his tongue, lymph nodes and lungs. It was just a matter of time. On October 22, it took him. His journey to the spirit world began.
In August 2011, he said:
"I'm not going to argue with the Great Mystery. Lakota belief is that death is a change of worlds. And I believe like my dad believed."

"When it's my time to go, it's my time to go. I've told people after I die, I'm coming back as lightning. When it zaps the White House, they'll know it's me."
Earlier he said:
"The Universe which controls all life, has a female and male balance that is prevalent throughout our Sacred Grandmother, the Earth."

"This balance has to be acknowledged and become the determining factor in all of one's decisions, be they spiritual, social, healthful, educational or economical."