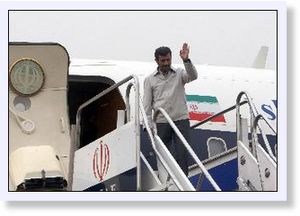 Iranian President Mahmoud Ahmadinejad says nuclear weapons have posed "the single greatest threat" to the world for more than sixty years.
Before embarking on his trip to New York early on Sunday, Ahmadinejad told reporters that the possession of an atomic bomb has become "an instrument to serve the hegemonic and expansionist interests of a select few."
"Under the pretext of nuclear non-proliferation, certain countries exert political pressure on those merely seeking to pursue peaceful enrichment activities," said the Iranian president.
Ahmadinejad added that Iran has some practical proposals with regards to reviewing the 40-year-old Nuclear Non-Proliferation Treaty (NPT) which should be considered by the International Atomic Energy Agency (IAEA).