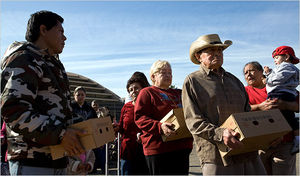 More than 1 million jobless California workers could have their unemployment insurance benefits cut off soon if Congress does not continue federally financed benefit extensions of up to 99 weeks, state officials said Wednesday.
At least 100,000 of those workers, those who have been unemployed the longest, could see a cutoff of benefits as early as the first week of January.
The state has more than 2 million unemployed workers, and 1.1 million of them are now collecting benefits -- either the 26 weeks of state-financed payments, or the up to 73 weeks of federally financed extended benefits in five tiers, in order, of 20, 14, 13, six and 20 weeks. Benefits range from $40 to $450 a week.
In all, California is paying out about $1.2 billion in state and federal unemployment insurance benefits a month.