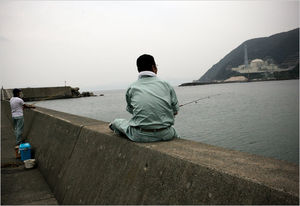 Tsuruga - Three hundred miles southwest of Fukushima, at a nuclear reactor perched on the slopes of this rustic peninsula, engineers are engaged in another precarious struggle.
Miwako Ogiso, part of a Fukui Prefecture group against nuclear power, calls the Monju project "Japan's most dangerous reactor." It has a history of safety problems and lies on an active fault.
The Monju prototype fast-breeder reactor - a long-troubled national project - has been in a precarious state of shutdown since a 3.3-ton device crashed into the reactor's inner vessel, cutting off access to the plutonium and uranium fuel rods at its core.
Engineers have tried repeatedly since the accident last August to recover the device, which appears to have gotten stuck. They will make another attempt as early as next week.