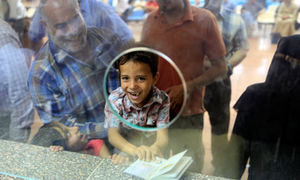 Post-revolution move is hailed as 'first step towards breaking the siege', but Israel voices concerns
Egypt has opened its border with Gaza, letting Palestinians leave the blockaded territory, in a move seen as indicating a more supportive policy since February's revolution.
Hundreds of people laden with luggage gathered at the Rafah crossing in the south of Gaza before the border opened at 9am. Around 300 crossed in the first hours and officials said they expected up to 1,000 to leave Gaza by the end of the day. Women, children and men over the age of 40 will be permitted free travel from Gaza to Egypt, but men under 40 will be required to apply for and be granted a visa. A large proportion of Gaza's 1.5 million population is aged between 18 and 40.
The crossing will open for eight hours a day, six days a week. In the four years since Hamas took control of Gaza, 18 months after winning elections, and Israel imposed a stringent blockade, the Rafah border has opened intermittently and only students, businessmen and people needing medical treatment have been allowed through.