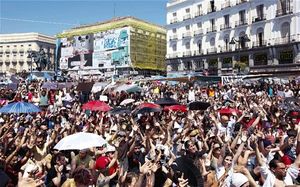 On Sunday evening thousands of protesters voted to continue the occupation of Madrid's Puerta del Sol square, in the "tent city" established in the immediate aftermath of the mass demonstration on May 15.
Voting to stay, protesters chanted, "We are not going! We are not going!"
The rally was the culmination of some 120 protests held in the capital over the weekend. Protests are also continuing in Spain's major cities and towns including Barcelona, Seville, Valencia and Logrono.
The AFP agency reported a Puerta del Sol protest spokesman who said, "We have started something in Sol. We have started to spread to the rest of the world, so this is not the time to stop it. The support we received internationally was very important, it was something that moved us in Sol, especially the mobilisation in Paris was a very big support, and also the mobilisation in Greece".
"For the moment we are here indefinitely. We will decide depending on events", he added.
Those gathered also observed a minute's silence in tribute to those who faced vicious police and "political oppression" repression during the protests, including in Barcelona's Plaza de Catalunya. On Friday, police in Barcelona were instructed to clear the square, using the pretext of Saturday evening's football Champions League final between FC Barcelona and Manchester United at Wembley. Around 120 people were injured during the assault by riot police, who attacked peaceful protesters with batons and tear gas and fired rubber bullets.