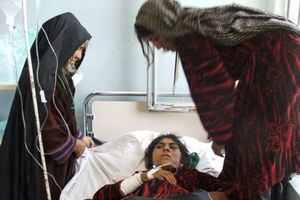 An Afghan woman has been injured along with her five young children when a missile fired by US-led forces struck their house in Afghanistan's northeastern province of Kunar.
A US-led convoy, rolling through Sarkani district of Kunar Province, came under attack by Taliban militants on Friday. The forces responded by firing a missile which missed the target and hit the residential building.
Parts of the structure were damaged in the incident, a Press TV correspondent reported on Friday.
The incident comes as violence in Afghanistan has spiked to record high levels since the US-led invasion of Afghanistan in 2001.
Statistics about the civilian death toll in Afghanistan are not available. However, it is estimated that between 14,000 and 34,000 Afghan civilians have lost their lives since the US-led invasion.
Tens of thousands of Afghan civilians have reportedly lost their lives as the result of displacement, starvation, disease, exposure, lack of medical treatment, crime and lawlessness resulting from the war.