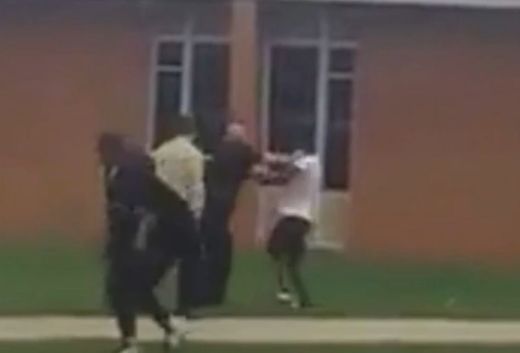 A new video out of Mentor, Ohio, shows a white police officer
seemingly starting a physical confrontation
with a black high school student after the student was reportedly spotted with an electronic cigarette on campus.
In the video, captured by a fellow student, an officer is seen repeatedly pushing the student before tackling him to the ground and handcuffing him. The student backs away from the officer after the first shove, seemingly in an attempt to de-escalate the situation.
"Wait a second, why is the cop starting shit with him?" remarks an off-camera student who is watching the incident unfold.
Possession of nicotine or a tobacco product by a minor is, by all accounts, a minor infraction
.
In Ohio, it carries the penalty of a $100 fine
, having to attend a tobacco education program, or both.
Or, as they used to do in my high school, authorities would just take it away from you. Case closed.
But that's not what happened here.
The 16-year-old student was
arrested
on charges of resisting arrest, disorderly conduct, and given a smoking citation
. He was also reportedly given a 10-day suspension, which the school
later said it had reversed
after video of the incident went viral.
In a press release, the Mentor Police Department said the student "became verbally abusive and physically defiant as he attempted to push his way past the officer in order to board a school bus," at which point the officer had to use force.