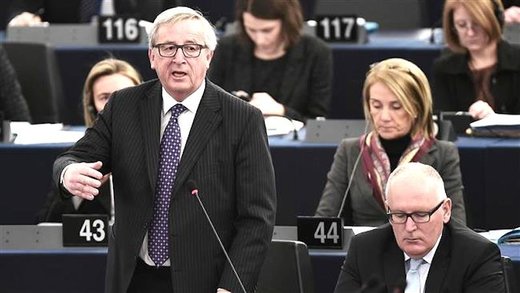 European Commission President Jean-Claude Juncker has said that
adding border checks to Europe's passport-free area would cost at least three billion euros a year in lost business.
Juncker, whose EU executive is working on revising the bloc's asylum-seeking policy, told the European Parliament in Strasbourg on Wednesday that every hour of waiting time at borders had a cost.
"One after another, we close the borders and once they are all closed we will see that the economic cost is huge," Juncker said, adding,
"If we close the borders, if the internal market begins to suffer ... then one day we will be wondering whether or not we really need a common currency if there is no single market, no free movement of workers any more."
Juncker pointed out that he decided to stress the economic impact because of EU governments' "cavalier" attitude to the Schengen zone of passport-free travel. The remarks come as some European governments have pledged to close their borders to incoming refugees from conflict zones.