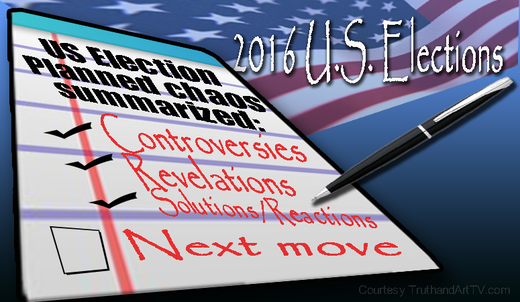 It's always important to keep a strong perspective on reality and the objective truth about what is happening even though we ourselves (readers, truth seekers) are humans with principles, passion, interests, needs and emotions. These are factors which sometimes can make objectivity difficult to see. Yes, we all have human attributes meant for our own good and for survival which, if not carefully handled, can make us vulnerable to deep state propaganda, political strategies, psychological operations and political agendas. This is saying a lot so let's break this down and see if we can apply some principles that make this reality easier to understand.
Engineered chaos
The first point I want to emphasize as I did in several
articles
of the past month or so is that no one should be mistaken,
in America we are smack in the middle of an engineered chaos. That's right. Political chaos that was planned and desired by the ruling elite. Nothing going on now is by coincidence.
If anyone thinks the revelations, leaks, surprises, shocking news, infighting, controversies, division, accusations and political clashes of the past months is spontaneous and coincidental then you are far too naive to comprehend what we are about to discuss. Please try to see how politics in the year 2016 with all the technology available, the global agendas of the elite, the opportunity to control resources and the trillions of dollars at stake is indeed all by design. The ruling elite can and thus WILL always try to steer humanity in the direction of their liking. This basic reality of the ruling elite pulling the strings at the highest level is the fundamental basis to understanding how the world works today. For everyone else who understands this, let's move on.
Engineered chaos and the orchestration of division, strife and clashes of ideology leading to civil unrest and ultimately the fracturing of nation-states is the standard mechanism by which the US empire has exerted its domination over nation-states, especially since the creation of the CIA in 1947. This is how the US overthrows governments.