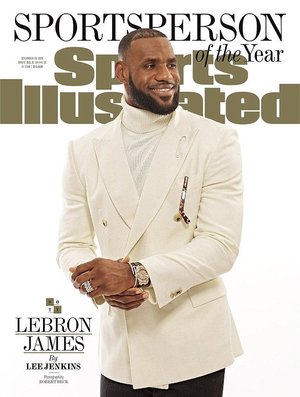 LeBron James' transition from owner of one of the best stories in sports history to becoming one of the most thoroughly unlikeable celebrities in America is nearly complete.
As
Sports Illustrated's
"Sportsperson of the Year,"
James capitalized on his cover photo and attached a safety pin to his coat to make a political statement against Donald Trump.
The safety pin signifies solidarity and support for women, minorities, and immigrants.
James
campaigned
with Hillary Clinton, and recently
refused
to stay at one of Donald Trump's hotels when the Cavaliers came to New York to play the Knicks.
James accepted the award while paying tribute to black athletes of the past, and their stands on racial justice. James
said
, "This award is for the great Muhammad Ali, for Bill Russell, for Jim Brown, for Kareem Abdul-Jabbar. They sacrificed everything that could've happened to them. [They] could have been stripped of everything that they had accomplished to that point. But their calling and their reasoning for doing what they had to do was for a night like tonight.