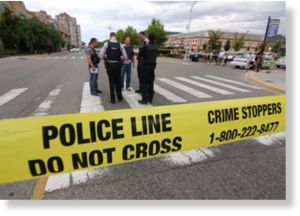 A settling of scores could be on the way between gangs in British Columbia after a notorious leader of the Red Scorpions was gunned down and a full-patch member of the Hells Angels was wounded in a very public daylight attack, police say.
The brazen slaying of 30-year-old Jonathan Bacon outside a glamorous waterfront hotel in Kelowna Sunday has the potential to ignite violent reprisals, RCMP Supt. Bill McKinnon acknowledged Monday, a day after the shooting that injured at least four others at the time.
"I think retaliation is something we're very cautious of," the officer told a news conference in the B.C. Interior city.
"Where it might happen, whether it'll happen in Kelowna or any community in this province is something that law enforcement officials are very leery of at this particular time.
"I can't comment on expectations. I think it's a possibility that it could happen."
No arrests have yet been made in the high-profile slaying that police described as linked to organized crime. Const. Steve Holmes said it was targeted but he wouldn't say who in the group was the intended victim.