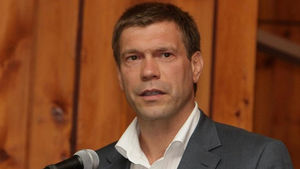 Radicals attacked two presidential candidates that were taking part in the Ukrainian talk show 'Svoboda Slova'.
Oleg Tsarev was brutally beaten and is now in a critical condition
, the candidate's press office reported.
Oleg Tsarev was attacked by radicals after being trapped inside the ICTV media building following his appearance on the show, according to the statement released by Tsarev's office.
"It was with great difficulty that government's security forces were able to recapture Oleg Tsarev from the angry mob. He was severely beaten and is in serious condition,"
the press office said.
The video embedded below shows the scene of the alleged mob attack, although Tsarev himself is not visible through the crowd.
Earlier, there were reports of the entire building being surrounded by unidentified gunmen with Tsarev trapped inside and his car attacked, including slashed tires.

Comment: That the West keeps silent about the fascist attacks and violence in Ukraine and the role that the Nazis have in the illegitimate government of Ukraine is tantamount to tacit support for these groups.