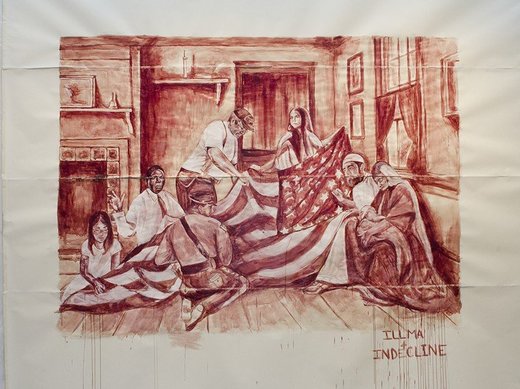 Illma Gore caused quite a controversy during the presidential campaign last year with her illustration depicting a nude Donald Trump. This time she's teamed up with an artist collective to create a mural using human blood.
The Los Angeles-based artist
was approached shortly after the election by Indecline, the artist collective that placed statues of a nude Trump in five cities around the United States.
The resulting mural is called "Rise Up Thy Young Blood," a paraphrase from Shakespeare's King Richard -- a call to action.
About 50 people donated blood. None of them was told what the project would look like. Gore says most of the donors are artists and friends and wanted to remain anonymous. Gore also used her own blood. "Blood is similar to watercolors. It smells a little weird. It's very metallic like iron."
A unifying message
Gore says the mural is meant to show a sense of solidarity for people who feel divided post-election and as Trump enters the White House. "I would say it's anti-racism, anti-divisiveness, it's anti-bigotry, it's anti-not listening people, except for coming together and saying we are here and we will do anything."