"In a regular sequence, new 'emergency decrees' appeared every six months, each yet again reducing salaries, pensions, social benefits, and finally even private wages and rates of interest. Each was the logical consequence of the last one, and each time Bruning [German Chancellor 1930-1932], clenching his teeth, imposed the painful logic." From: Defying Hitler: a memoir, by Sebastian Haffner, written in 1939, discovered by his son after his death, published in 2000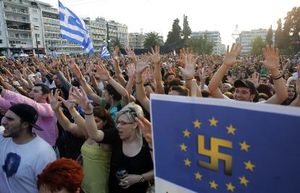 The above haunting words were written by Sebastian Haffner in his 1930s memoirs as a young lawyer in Berlin who experienced first-hand the Nazi takeover.
The economic circumstances that Germans were subjected to seem an eerily relevant description of what we are experiencing today. History seems to be repeating itself as we encounter the current repetitive fiscal emergencies and imposition of 'austerity measures' ad-nauseum. If you listen carefully to the emotional, fatalistic language of 'desperate' politicians, you'll hear a not-so-faint echo of the vitriol of the Third Reich's infamous chancellor.
Through Government media agents, we're told "we need to make sacrifices" or the world and everything in it, will implode and die a painful, agonising death. The new 'emergency decrees' of our times all sound necessary in the 'life-raft' manner they are announced. New legislation or amendments are touted as the saviours of global security, fiscal responsibility or financial stability, but the true, freedom-crushing impact of a few carefully chosen, ambiguous words on a legislative manuscript is only fully understood when it is far too late as Haffner carefully explicates.