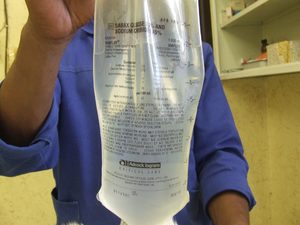 The U.S. Food and Drug Administration said on Tuesday it is working with the three manufacturers of intravenous saline solutions commonly used to hydrate hospital patients to address a shortage caused by a spike in demand.
Healthcare providers are reserving supplies of the fluids for their most seriously ill patients, and the product manufacturers - Baxter International Inc, Hospira Inc and B. Braun Medical Inc - have stepped up production in response, said Valerie Jensen, FDA's associate director for drug shortages.
"We have not heard of anyone running out of the IV solutions at this point, but we know the hospitals are not comfortable with the low supplies," Jensen said.
Manufacturers first notified FDA late last year that they expected delays in filling orders, but an increase in hospitalizations two weeks ago partly due to rising numbers of flu cases exacerbated the problem, she said.
"The increase in demand pushed this into a shortage," Jensen said.
To cope with the shortage, healthcare providers are using substitute products such as oral hydration fluids or smaller IV saline bags with slower drip rates when appropriate, said Bona Benjamin, director of medication use quality improvement for the American Society of Health System Pharmacists.