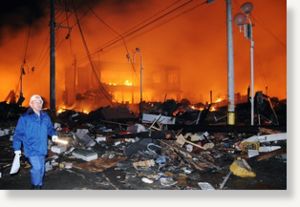 Japan grappled to contain its worst nuclear accident in at least 33 years at a plant north of Tokyo as local media said the death toll from the nation's biggest earthquake and ensuing tsunami may top 10,000.
Radiation levels around the Tokyo Electric Power Co. station in Fukushima, 135 miles north (217 kilometers) of the capital, rose after cooling systems at a second reactor failed, heightening concerns about a possible meltdown following an explosion there yesterday. Water levels fell at a third reactor, raising the possibility of a hydrogen explosion there, Japan's top government spokesman said yesterday.
The 8.9-magnitude temblor and subsequent tsunami may have killed 10,000 in Miyagi prefecture north of Tokyo, national broadcaster NHK reported, citing local police. The official toll reached 1,597, with 1,481 more missing and 1,683 injured, the National Police Agency said. More than 350,000 people are in emergency shelters.
"Our country faces its worst crisis since the end of the war 65 years ago," an emotional Prime Minister Naoto Kan said at a nationally televised press conference in Tokyo yesterday. "I'm convinced that working together with all our might the Japanese people can overcome this."