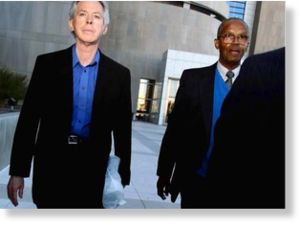 Msgr. Kevin McAuliffe stole about $650,000 from his Las Vegas-area parish over nearly a decade to feed a gambling addiction. His parishioners had urged the judge to show mercy.
For years, Msgr. Kevin McAuliffe lived something of a double life.
He was widely admired by his flock at St. Elizabeth Ann Seton, which he helped build into one of the largest Roman Catholic parishes in the Las Vegas area. But at the same time, he was stealing money from the church.
Over nearly a decade, he pocketed about $650,000. His motive was all too familiar in Nevada. McAuliffe was a gambling addict.
On Friday, U.S. District Judge James C. Mahan judge waved off the defense's request to give McAuliffe probation. He sentenced the priest, who pleaded guilty to charges stemming from the thefts, to more than three years in prison and ordered him to pay restitution.
McAuliffe's attorney, Margaret Stanish, had asked the court to consider his lifelong devotion to the Catholic Church, which started with helping nuns when he was a schoolboy. McAuliffe has also been diagnosed with social anxiety disorder and depression, she said, but in recent months had "excelled" in gambling addiction treatment.