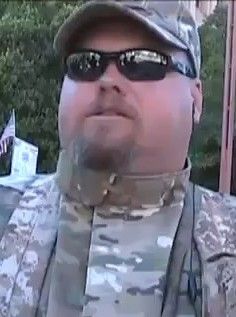 Armed citizen militia group US Border Guard is making its presence felt at the Occupy Phoenix demonstration to protect free speech rights, arguing that the second amendment prevents the state from abusing the first amendment.
The group has been labeled "neo-nazis" by the Southern Poverty Law Center, which is usually a demonization tactic, but the individual shown in the clip, "JT Ready"
has attended
neo-nazi rallies and is closely affiliated with the fringe National Socialist Party.
The group has also operated as a "Minutemen on steroids" outfit, organizing armed patrols of the US border with Mexico.