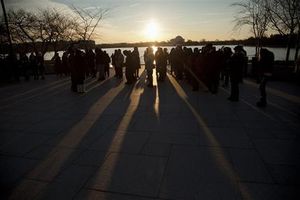 Hundreds of people rallied Monday outside the South Carolina capitol to honor the Martin Luther King Jr. holiday and protest the state's voter identification law.
While rallies in previous years have often been focused on protesting the Confederate flag that flies outside the Statehouse near a memorial for Confederate soldiers, the attention this year has turned to the voter ID law.
The U.S. Justice Department has rejected the law. The Obama administration said it didn't pass muster under the 1965 voting rights act, which outlawed discriminatory practices that prevented blacks from voting. On Monday, marchers carried signs that read: "Voter ID(equals)Poll Tax."
U.S. Attorney General Eric Holder was among those slated to speak.