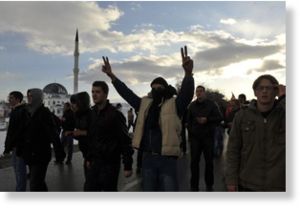 Police in Kosovo have arrested at least 146 protesters following clashes with hundreds of Kosovo Albanians, who tried to blockade the border with neighboring Serbia.
Clashes erupted Saturday in the northern town of Podujevo, six kilometers (four miles) from the border with Serbia and near the main Merdare border crossing, leaving 50 people, including 31 police officers, injured.
Heavily-armed riot police fired tear gas and employed water cannons after the demonstrators blocked the road and ignored calls to disperse. Eventually, police managed to disperse the protesters and restore traffic on the road leading from the border to Pristina, the capital and largest city of Kosovo.
The opposition political party Self-Determination had announced that it would block the traffic from Serbia in order to bar Serb products from entering Kosovo.