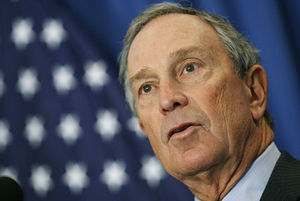 Commentary: Occupiers arrested, but Mayor Mike dines with Goldman
If ever there was an opportunity for Occupy Wall Street to re-energize and awaken from its winter slumber, it is the let-them-eat - Shake Shack lunch of New York City Mayor Michael Bloomberg and the chief executive of Goldman Sachs Group Inc.
"Bloomberg visited Goldman Sachs Group Inc.'s GS -0.21% headquarters in Manhattan in a show of support after a departing employee [Greg Smith] publicly criticized the firm's culture yesterday," according to a Bloomberg News report.
" 'The mayor stopped by to make clear that the company is a vital part of the city's economy, and the kind of unfair attacks that we're seeing can eventually hurt all New Yorkers,' said Stu Loeser, a spokesman for the mayor."
The mayor also
ate lunch
with Goldman CEO Lloyd Blankfein at Shake Shack. For those who don't know, that restaurant is the creation of celebrity chef Danny Meyer. With a plain burger starting at $4.55 and going as high as $8.60, Meyer, whose restaurant empire also includes Union Square Cafe, the Modern and Maialino, has become a kind of gilded Ronald McDonald in Manhattan.
There's just so many things wrong with Bloomberg's visit, it's hard to know where to begin.