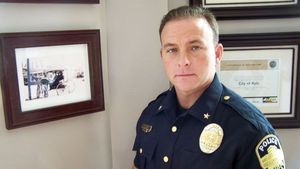 A Texas police chief is being sued in federal court for allegedly harassing the husband of a woman with whom he purportedly fathered a son.
Kyle City Police Chief Jeff Barnett allegedly "abused his authority and connections in January 2012 by having Dr. Glen Hurlston arrested for domestic violence soon after Barnett left his position as police chief in the North Texas town of Princeton," according to the lawsuit filed December 27 in the U.S. District Court, Eastern District of Texas.
Barnett has been Kyle Police Chief since May, 2011. Prior to that, he served as chief of police for the City of Princeton, Texas, since 2005.
In the suit, Hurlston, who is chief of anesthesia at Byrd Regional Hospital of Leesville, La., alleged that Barnett ordered his officers to conduct a "campaign of harassment" against him, which included an arrest in January 2012. The suit notes that a Jan. 1, 2012 domestic battery abuse arrest pressed by the chief against the doctor was reduced to a misdemeanor, to which he plead no contest.
The suit alleges that Hurlston was threatened with arrest if "he showed his face" in Collin County, "making it difficult to exercise his visitation rights."
Hurlston told ABCNews.com that he filed the civil rights suit against the cities of Kyle and Princeton as well as Barnett and other officers.