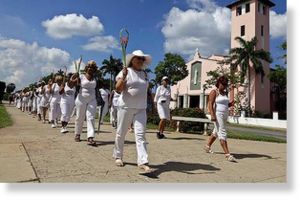 The women said that state security told them that they can attend mass in Havana, but cannot march outside. The action comes a week before Pope Benedict XVI arrives for three-day visit.
Cuba's Ladies in White say the secret police have told them that they will shut down the only public protests allowed by the government anywhere on the island - the marches staged by the women after Sunday masses in Havana's Santa Rita church.
The threat came as
police arrested more than 70 group members over the weekend
and dissidents stepped up their activities as Cuba prepares for Pope Benedict XVI's three-day visit to Havana and the eastern city of Santiago de Cuba, starting Monday.
The Ladies in White have been generally allowed to protest outside the Santa Rita church since mid-2010, when Cardinal Jaime Ortega interceded with the government after the women were accosted, sometimes lewdly, several times by mobs of government supporters.
Their Sunday marches after mass at Santa Rita, where many churchgoers are foreign residents of Havana, along the grassy median of Fifth Avenue in the western neighborhood of Miramar have been the only such regularly occurring protest in Cuba.
Police have cracked down harshly, however, when women tried to launch similarly peaceful marches elsewhere, including the cathedral in the city of Santiago de Cuba and the Basilica of Our Lady of Charity in El Cobre, both in eastern Cuba.