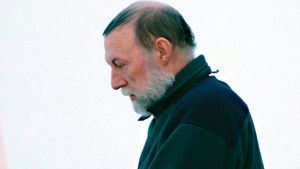 Iqaluit, Nunavut -- A witness at the trial of a priest facing dozens of sexual abuse charges involving Inuit children testified Monday that the girls in her community were forced to devise a foul way to stop him.
The woman, who can't be named under a court order, told a pin-drop silent courtroom that the only thing the girls could think of to fend off Eric Dejaeger was to empty their bowels while he attacked them.
Many, court heard Monday, were unsuccessful at preventing his attacks.
One woman told court how, when she was a little girl, Dejaeger taped her feet and right hand to the bed frame in his room and sodomized her. Court heard the priest forced a group of children to watch him having sex with his large dog.
Another man said he was a young boy when Dejaeger forced him to perform oral sex -- then struck him for doing it.
Witnesses leaving court after their testimony could be heard in the room outside howling wordlessly in grief and pain.
The trial in Iqaluit, Nunavut, started with Dejaeger pleading guilty to eight counts of indecent assault. Testimony began on the remaining 69 charges he faces, including sexual abuse, indecent assault, making threats and confinement.
The first witness described her home town of Igloolik, Nunavut, as a friendly place between 1978 and 1982. She said it was common for children to gather at the Catholic church, where they had room to play and were given crayons and pictures to colour.
When Dejaeger first arrived in 1978, he was "normal," said the witness, who was five at the time.