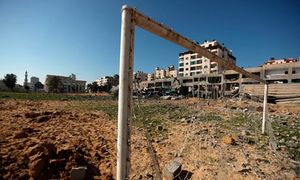 Players from Premier League and other European top flights say tournament will be seen as reward for assault on Gaza
A group of Premier League footballers and players in other major European leagues have condemned plans to hold the Under-21 European championship in Israel next year, saying it will be seen as a "reward" for this month's assault on Gaza in which
young people playing football were killed when a sports stadium was bombed.
The signatories, who include Eden Hazard of Chelsea, Abou Diaby of Arsenal and five Newcastle players - Papiss Cissé, Cheick Tioté, Sylvain Marveaux, Yohan Cabaye and Demba Ba - also criticised Israel's continued detention without charge or trial of two Palestinian footballers.
Several former Premier League players have also signed the letter, including Didier Drogba and Frédéric Kanouté, both of whom now play in China. Players with QPR, Stoke, Blackburn and Ipswich are among the signatories along with footballers in France, Spain, Italy, Portugal and Turkey.
The statement roundly
condemns the Israeli assault on Gaza, describing it as "yet another stain on the world's conscience" and expresses "solidarity with the people of Gaza who are living under siege and denied basic human dignity and freedom".
It then focuses on the destruction of a football stadium which the Israeli military said had previously been used by Hamas as a rocket launching site but which at the time of the bombing
was not.