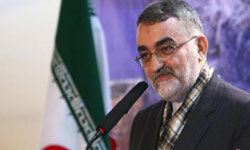 A senior Iranian legislator underscored Tehran and Kabul's abundant commonalities in different fields, and said there are good grounds for the further development of economic relations and cooperation between the two countries.
The remarks were made by Chairman of the parliament's National Security and Foreign Policy Commission Alaeddin Boroujerdi in a meeting with Leader of the Islamic Unity Party of the People of Afghanistan Mohammad Mohaqiq in Tehran.
Referring to the historical, cultural and religious affinities between the two nations, Boroujerdi said the Islamic Republic of Iran has always backed the Afghan nation in all ups and downs in the past three decades and hosted millions of Afghan refuges.
Given the invaluable experience of Iranian parliament over half a century, he said there exists good ground for expansion of broad-based parliamentary relations and economic cooperation between the two countries.
Mohaqiq, for his part, referred to the longstanding cultural and religious ties between the two countries, and called for benefiting from each others' capabilities to broaden economic cooperation.
Iran is one of the most important donors to Afghanistan which has kept its promises to help with the reconstruction of the war-hit country.
Iran has built some roads, power transmission lines, and border stations, among the other infrastructure projects which would better link the two nations.
Iran has also contributed more than $50 million annually to Afghan anti-narcotics efforts in the last 8 years.