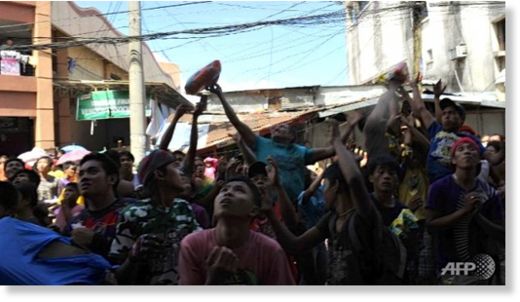 Tormented survivors of a typhoon that is feared to have killed more than 10,000 in the Philippines rummaged for food Sunday through debris scattered with corpses, while frenzied mobs looted aid convoys.
Two days after one of the most powerful storms ever recorded flattened entire towns across part of the Southeast Asian archipelago, desperate survival tactics created fresh horrors.
On the outskirts of Tacloban, a coastal eastern city of 220,000 where tsunami-like waves destroyed many buildings, Edward Gualberto accidentally stepped on bodies as he raided the wreckage of a home.
Wearing nothing but a pair of red basketball trousers, the father-of-four and village councillor apologised for his shabby appearance and for stealing from the dead.
"I am a decent person. But if you have not eaten in three days, you do shameful things to survive," Gualberto told AFP as he dug canned goods from the debris and flies swarmed over the bodies.
"We have no food, we need water and other things to survive."