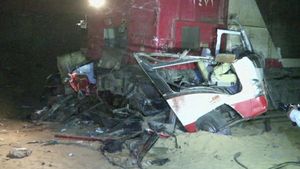 At least 27 people were killed and 32 others injured when a freight train crashed into a mini-bus and a truck near the Egyptian capital of Cairo in the early hours of Monday, Xinhua news agency reported the head of the Ambulance Authority a saying.
"All the victims had been cleared from the scene," Ahmed el- Ansari told Xinhua, adding that the rescue teams remained at the scene for more search, but the death toll may increase as some cases are in serious conditions.
Previous report quoted a security source as saying that at least 29 people were killed in the accident.
The train was en route to Giza governorate from the southern city of Beni Suef when it hit a mini-bus, carrying passengers home from a wedding near the town of Dahshur, some 40 km south of Cairo.
"Initial reports said the drivers of the vehicles ignored warning lights and chains blocking entry to the crossing, and tried to cross the tracks," Hussein Zakaria, the head of the Egyptian Railway Authority, told state-run Nile TV.
The train continued for almost 1 km before it stopped, he said.
Sixteen ambulances had rushed to the scene to transfer the victims to hospitals, he said, adding that the train driver and his assistants who survived the accident were detained.
However, state-run Ahram newspaper website quoted the crossing workers as saying "The warning and the red signals were broken," adding that they attempted to use the chains for closing the track, but they failed as the train was coming with high speed.