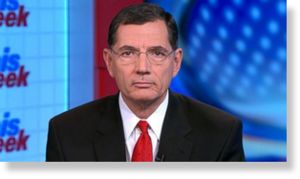 As technical problems continue to plague the Obamacare rollout, Senator and orthopedic surgeon Dr. John Barrasso, R-Wy., once again called for Department of Health and Human Services Secretary Kathleen Sebelius to resign.
"She's already, as of 'Saturday Night Live' last night, the laughing stock of America," he said on 'This Week' this Sunday. "She's lost considerable credibility."
Sebelius was parodied in the opening segment of
'Saturday Night Live'
last night, poking fun at the failures of the Healthcare.gov website.
The Obamacare rollout has been
beleaguered by problems
since the enrollment system went live at midnight on Oct. 1. By mid-afternoon that same day, around 2.8 million people had visited Healthcare.gov, the federally-run exchange serving 36 states. The resulting system overload meant many visitors were greeted with an error message saying the site was down.
In the following weeks consumers
reported problems
with system timeouts, creating and logging into accounts and inaccurate information regarding eligibility.
In his weekly address Saturday, President Barack Obama said Healthcare.gov had been visited more than 20 million times since its launch. However, only around 700,000 Americans have successfully submitted applications.