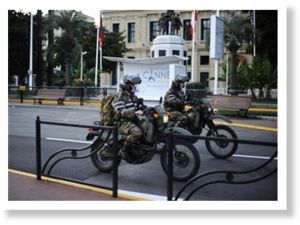 The glamorous and easy-going Riviera resort of Cannes turns into a fortified camp this week as French police prepare for the arrival of world leaders for a G20 summit set to be hijacked by fears that a euro zone crisis relief plan is unraveling.
Thousands of extra police have been deployed along the Mediterranean coast to stop protestors traveling the 30 km (19 miles) down from Nice, where they are being kept at arm's length, and sparking clashes that could disrupt the gathering.
Police have sealed off Cannes' mythical waterfront drag, set up a second security perimeter around the old town and
told 'Cannois' locals aged over 12 they must wear identity badges to move around their own city during the Nov 3-4 summit
.