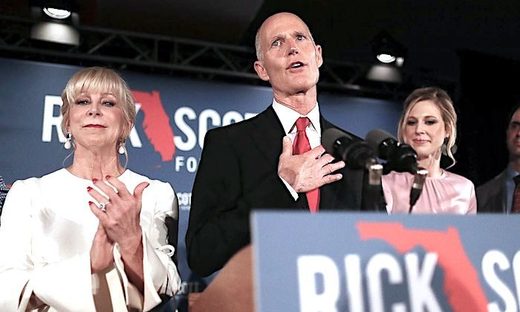 Nearly two weeks after Election Day,
Republican Gov. Rick Scott has won
Florida's Senate race
. Sitting Democratic Sen. Bill Nelson conceded to Scott Sunday afternoon,
recording a
YouTube video
in which he acknowledged defeat.
Nelson called Scott to concede, the latter said in a statement. President Trump congratulated Scott in a
tweet
, writing: "From day one Rick Scott never wavered. He was a great Governor and will be even a greater Senator in representing the People of Florida."
It marks the end of a long and at-times messy vote recount that drew national attention amid reported irregularities in vote counting by county officials, problems with tabulation machines and missed deadlines.
It also marks the end of Democrats' hopes in Florida's two high-profile elections this year.
On Saturday,
Democratic Tallahassee Mayor
Andrew Gillum conceded
to Republican Rep. Ron DeSantis in the governor's race.
In defeat, Gillum drew praise from Trump on Twitter afterward. Recounting had stopped in that race after Thursday's conclusion of a machine recount.