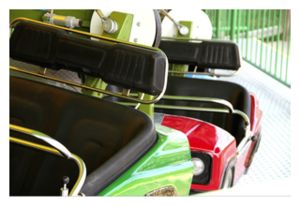 This summer, millions of people will head to the nation's amusement parks. Many might assume that the bigger and faster rides account for the most amusement ride-related injuries to children, but that's not always the case.
My colleagues and I at the Center for Injury Research and Policy, Nationwide Children's Hospital, did
the first study that looks in detail at children who are injured on amusement rides
, which includes rides at amusement parks (fixed-site rides), rides at fairs and festivals (mobile rides) and rides found at local malls, stores, restaurants or arcades (mall rides).
From 1990 to 2010, 92,885 children under age 18 were treated in U.S. emergency departments for amusement ride-related injuries for an average of 4,423 injuries each year. More than 70 percent of the injuries happened during the warm summer months of May through September - averaging more than 20 injuries a day during those months. [
Killer Thrills: How Safe Are Amusement Parks?]
We found that most children were injured in the head and neck region, followed by the arms, face and legs. Soft-tissue injuries like bruises were the most common type of injury, followed by strains and sprains, cuts and broken bones.