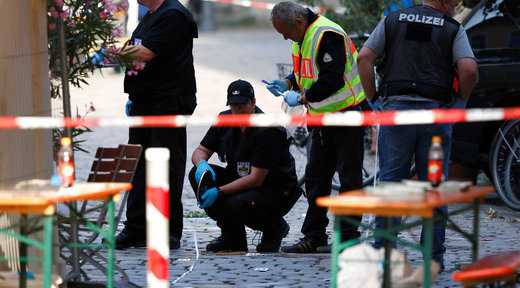 Four violent attacks against the public in Germany in a matter of just one week have left the country stunned and fearful that another incident could take place anywhere and at any time.
German officials have said that attacks will only intensify.
Ansbach blast
The latest attack took place on Sunday in the Bavarian city of Ansbach,
where a 27-year-old Syrian who had been rejected asylum set off a bomb reportedly containing metal fragments designed to maximize injuries
. The blast from the improvised device, hidden in a backpack, killed the bomber and injured at least 12 people. The man reportedly tried to initiate the explosion twice, also trying to enter a music festival where about 2,500 people were gathered.
After being denied entry to the event, the man blew himself up in front of a nearby restaurant.
"My personal view is that it is unfortunately very likely that a
real
Islamist suicide attack took place here," German newspaper
Die Welt
quoted Bavarian Interior Minister Joachim Herrmann as saying.

Comment: Is he suggesting that fake Islamist suicide attacks have taken place in Germany or elsewhere? Very interesting!