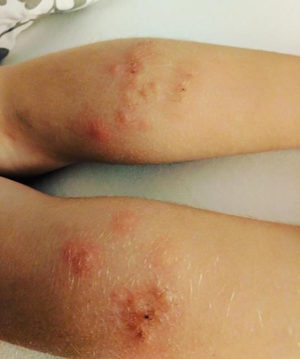 A MUM has hit out at British Airways claiming she and her daughter, 7, were left bleeding after being ravaged by BED BUGS during a flight to London Heathrow.
Heather Szilagyi, 38, told how she saw the critters crawling out from behind her in-flight TV frames and food tray during the journey.
Although she discreetly flagged the issue to cabin crew, she said they were unable to re-seat her, her fiance Eric Neilson and her daughter Molly Reid, 7.
She told The Sun Online the experience has ruined their trip after they spent hours washing themselves, their clothes and tending to their sores.
Heather, from Vancouver, Canada, said: "It's been really frustrating, this has been horrible and its really ruined our trip."
The incident occurred while the trio were aboard a BA flight departing Vancouver on Monday night.