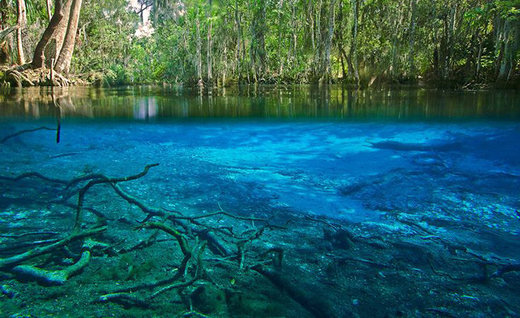 A
new study
published by a group of Brazilian researchers in the journal
Phycologia
shows that Monsanto's most popular herbicide, RoundUp, negatively affects life in freshwater ecosystems. More specifically, legal levels of RoundUp, as well as those of its main ingredient glyphosphate, can
alter and kill macroalgae (i.e. freshwater seaweed) by inhibiting photosynthesis.
The legal limits referenced in the study are those of Brazil, which are 0.28 mg l
−1
. Compare that to the US legal limit of 0.7 mg l
−1
. Macroalgae are
extremely important
in freshwater ecosystems as they
function as primary producers, meaning they help form the bottom of the food chain on which other organisms depend.
They also recycle nutrients and increase plankton populations, which are a main food source for many fish and other marine animals. Die-offs of macroalgae, regardless of the cause, reduce diversity and the populations of other animals in the ecosystem, which
can put the entire ecosystem at risk of collapse if the die-off is sufficiently severe.
The species of macroalgae used in the study,
Nitella microcarpa
, is found throughout the world, meaning that the implications of this study are global.