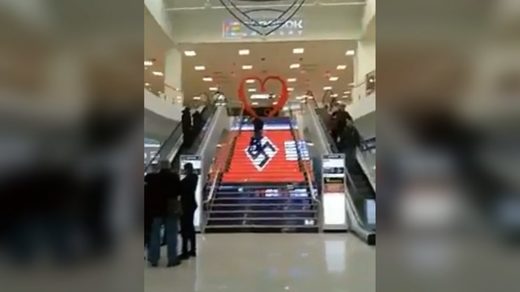 A swastika has been displayed in a Kiev shopping mall, located at a street named after Nazi collaborator-turned Ukrainian 'hero' Stepan Bandera.
The mall itself denied involvement in such a shocking display and blamed hackers.
The offensive display appeared on the LED-illuminated staircase of the Gorodok Gallery mall in the Ukrainian capital on Saturday and was caught on video by some baffled shoppers.
Footage from the scene shows the massive swastika over a red and white field, with the whole display closely resembling the state flag of Nazi Germany. While the woman who captured the video was seemingly offended by the sight,
some other visitors to the mall appeared to stroll casually past the display like nothing was wrong at all.