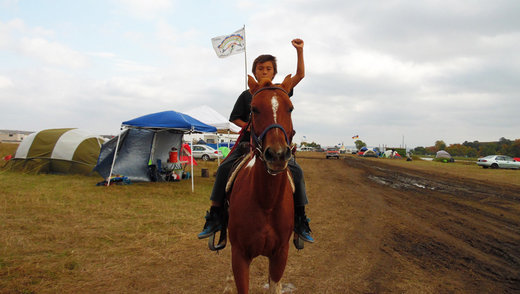 As several of us from Chicago approached the camp here that is known now around the world we saw the flags of many Native tribes, tents, tepees, makeshift buildings, horses and motor vehicles spread across a valley near where the Missouri and Cannonball Rivers come together.
The Sacred Stone encampment, as it is called by the thousands protesting here on any given day, is near the Standing Rock Sioux reservation.
It is a place where Native tribes from all over the continent have come to join the Standing Rock Sioux in their battle against the Dakota Access pipeline. They fight to protect sacred sites but they fight also to protect water - the Missouri River alone provides all the water needs for millions of Americans.
This struggle has become much more than just another massive civil disobedience action, however. The "water protectors," as they call themselves (preferring that term to 'protesters'), have literally constructed what looks like an almost permanent new settlement in North Dakota. With the population each day averaging 4,000, the Sacred Stone Camp is already twice the size of the average North Dakota town.