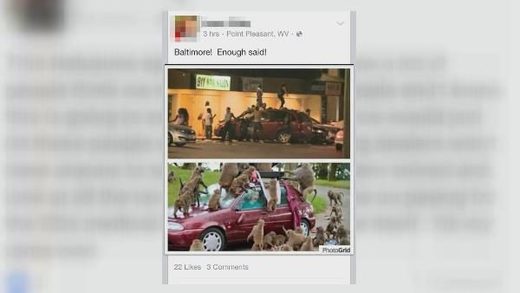 Social media is a place where people tend to be unafraid of letting their true feelings out. And, as the Free Thought Project has reported on numerous occasions, police officers, often times, have no qualms about airing their racist or violent feelings for the whole world to see. A cop in Mason County, WV, is the most recent officer to be busted on Facebook for his racist and violent tendencies.
Last week, an anonymous source leaked screenshots from the Facebook account of a sheriff's deputy in Mason County. What they show is a glimpse into how some police feel about those who they serve. This cop was so unafraid of offending anyone or getting caught that he posted a picture comparing black Baltimore rioters with monkeys.
The post says, "Baltimore! Enough said" and shows a picture of African-American people protesting on top of a car, and underneath it is a picture of monkeys on top of a car.