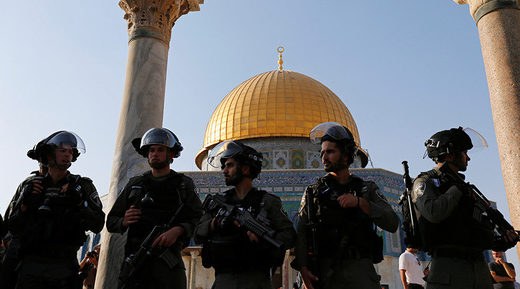 It was supposed to be a moment of celebration and reflection for one of those too-rare occurrences in the Mideast - popular protests by Palestinians had stymied the imposition of a new facet of Israel's 50-year-long occupation.
Instead, even after Israel backed down on the changes it had imposed at the Al Aqsa Mosque compound, the situation in Jerusalem continued to spiral into familiar scenes of security forces chasing scrambling demonstrators.
Throngs of Palestinian worshippers flooded through the gates to Al Aqsa Mosque in Occupied East Jerusalem's Old City last Thursday. They reveled in victory after almost two weeks of boycotting Islam's third holiest site to oppose new Israeli security measures on the compound.
After a brazen assault on July 14, using weapons smuggled into the holy site by three Palestinian citizens of Israel and leaving two Israeli border police dead, Israel had installed CCTV cameras, turnstiles, and metal detectors. The mosque compound is under Jordanian control and administered by the Jerusalem Islamic Waqf, a Jordanian-Palestinian Islamic trust. The Waqf had called for the boycott and protests sprang up opposing Israel's changes to the delicate - and perpetually tense - status quo.