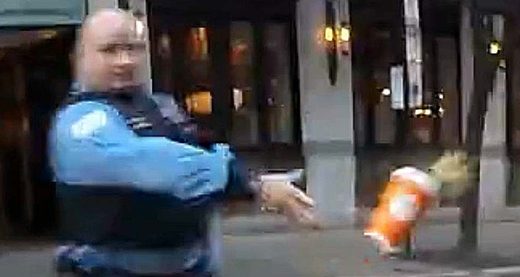 A jaywalking Chicago cop became upset at a group of motorcyclists speeding through city streets,
so he tossed a hot cup of coffee at one of the bikers
. Apparently, the cop was unaware the biker was recording him, capturing the incident on video.
"I got you on camera, bro," said the man who goes by
Elijah Bling on Facebook
. "Yeah, I got you."
The man then speeds away with the other bikers as the video cuts out.
The video was posted to Facebook on Sunday and shows a group of bikers speeding through the area of what appears to be near
E. Hubbard Street and N. State Street.
The coffee cup appears to be an extra large sized coffee cup from a nearby 7-11 or maybe a Starbucks, both who are known to give free coffee to cops.
In fact, it's an open secret that many restaurants and franchises provide free food and coffee to cops to thank them for keeping them safe. The equivalent of protection money
.

Comment: #BluePrivilege, let's not hold our breath until they discipline this officer. In all likelihood he'll get a slap on the wrist, if anything. If a normal citizen threw hot coffee on people that they passed on the street, there'd be jail time and civil lawsuit.