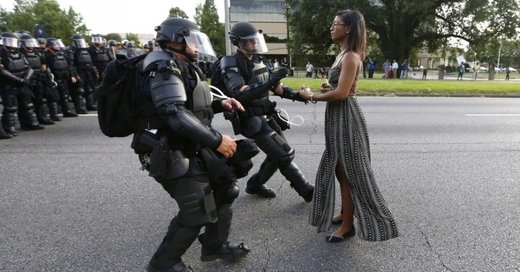 'Peaceful protestors were violently attacked and arrested, assault weapons pointed at them with fingers on the triggers, some dragged across the cement, their clothes ripped off of them'
The American Civil Liberties Union (ACLU) of Louisiana and other local civil rights groups filed suit against the Baton Rouge police department on Wednesday for violating the first amendment rights of demonstrators protesting the recent fatal police shooting of
Alton Sterling
.
Baton Rouge police showed excessive force when they arrived at this weekend's Black Lives Matter
demonstration
in
riot gear and bearing machine guns
, the
lawsuit
(pdf) alleges.
The officers also violated protesters' First Amendment rights when they used "physical and verbal abuse and wrongful arrests to disperse protestors who were gathered peacefully to speak out against the police killing of Alton Sterling," the ACLU
wrote
.
"[The police response] made me afraid to protest.
Seeing the way the police were manhandling folks caused me to hide, scream out of fear, and finally flee for my safety. I had to run. A peaceful demonstration should never be like that," said Crystal Williams, local resident and organizer with North Baton Rouge Matters. "I feel like speech is my most powerful tool to ensure my community and my family are safe. But now I feel totally silenced."