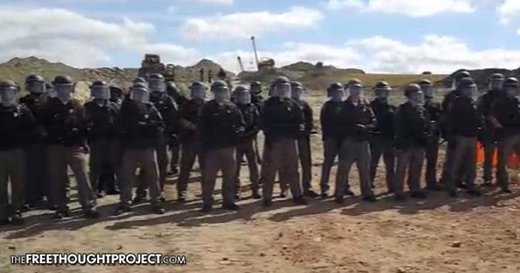 Dramatic
video
from Intercept reporter,
Jihan Hafiz
, was released this week from the Dakota Access Pipeline protests showing a full on assault by militarized police on peaceful people.
The video is from Saturday but took several days to be released as cops confiscated the camera used to film it.
The video was taken as water protectors and reporters covering the protests marched toward the construction site. However, their peaceful walk was swiftly interrupted by militarized shock troops armed with massive cans of pepper spray, batons, rubber bullets, and assault rifles.
According to
Hafiz,
the march was undertaken in solidarity with several protesters who had chained themselves to bulldozers and pipeline machinery at the construction site. But the marchers never made it to their destination. Instead, they were attacked by police forces who used pepper spray and beat protesters with batons.
Dozens of officers, backed by military trucks, police vans, machine guns, and nonlethal weapons, violently approached the group without warning.
"Don't move, everyone is under arrest," a voice says from the military vehicle that appears to be equipped with a Long Range Acoustic Hailing Device, or LRAD.
As protesters attempted to leave, the police surrounded them and began their attack. According to Hafiz, several women were targeted for leading the march and dragged from the crowd to be arrested. Police body slammed one man and another woman's ankle was broken as she ran.
The militarized police then circled the protesters in an apparent move to 'kettle' them — a tactic usually reserved for urban protests in which riot police force large crowds into corners to seemingly provoke them. However, the protesters stayed entirely peaceful.
Police continued their mass arrests even though the people were trying to leave. Some natives were seen running for the hills as the assault began.