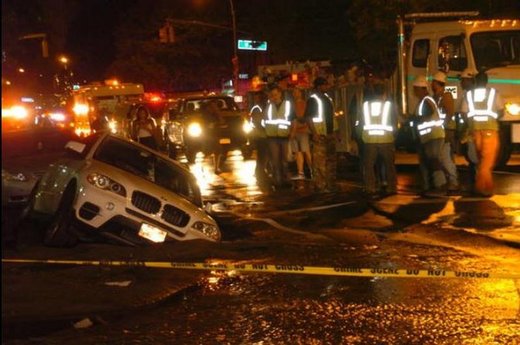 A water main break on the Upper West Side flooded nearby streets and basements, cut water to multiple apartment buildings, and sent an SUV plunging into an Amsterdam Avenue sinkhole.
The water line ruptured along Amsterdam, between 89th and 90th streets, on Monday night. The avenue was still closed between 88th and 91st streets Tuesday morning. M7 and M11 buses were diverted and traffic was pushed away.
A white BMW SUV was only partially visible at the 90th Street intersection, half of its body sunk beneath crumbled asphalt.
DEP crews were able to reroute the flow of water around at 11:30 p.m. but still needed to repair the broken water main ahead of the Tuesday morning rush. Crews were still working on the fix just before 6 a.m. Con Edison was at the scene as a precaution in case of any gas leaks.
The fire department checked basements in the area and found a number of them inundated with 5 to 6 feet of water.