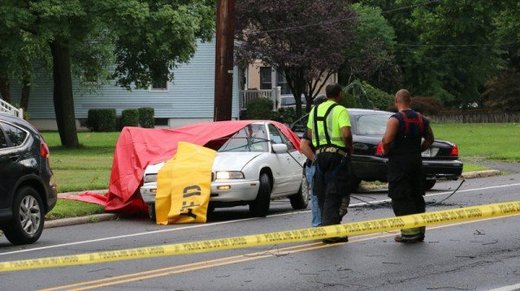 If you're driving during a storm and a live electrical wire falls onto your car, experts say you should stay inside until help arrives.
New Jersey's three biggest utility companies all advise drivers and passengers to remain inside their vehicle if it comes into contact with wires, because — contrary to popular belief — tires are electrical conductors, not insulators.
"It is true that you are
safe in your vehicle when a live wire falls on it
. But that's because electricity always seeks the easiest path to the ground," PSE&G says on its website.
"If you remain in the vehicle, the path of the electricity will be on the outside of the vehicle, through the tires, and into the ground. As long as we do not provide a path to the ground through our body, the electricity will not enter it. So when an electrical wire falls on your vehicle, stay in your vehicle until help arrives and the power is shut off," the website says.
If a driver or passenger has to escape from a vehicle because of a fire or other life-threatening situation,
PSE&G offers this advice
:
"Jump out with both feet together, making sure that you are not touching any part of the vehicle when your feet hit the ground." It's important to land with both feet hitting the ground at the same time, said Tricia Ingraham, a spokeswoman for First Energy, the parent company of JCP&L. When you land on the ground, keep your feet as close together as possible, then slowly hop or shuffle as far away from the electrical wires as possible, Ingraham said.