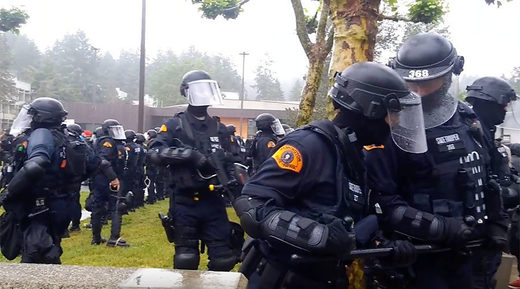 Police arrested at least one person at a free speech rally organized to oppose political correctness at Evergreen College in Olympia, Washington. Clashes marked the gathering, as black-clad counter-protesters arrived with silly string and pepper spray.
Riot police flanked protesters from both sides of the political spectrum gathered at The Evergreen State College, as the liberal arts institution was otherwise closed and all campus activities were suspended Thursday.
On one side, the "Patriot Prayer" conservative group gathered to protest the college's "Day of Absence," a long-time annual event that came with a twist this year. Instead of a voluntary boycott by a particular minority - such as women or immigrants - this time students demanded a day without white people be enforced. In May, protests erupted after a white professor at the college refused to participate. Dozens of students later demanded the professor's resignation after he wrote an email about the incident, which they deemed to be racist.
The Patriot Prayer group is calling for the college's funding to be cut since they say it has been taken over by political correctness and hatred.
"You cannot ask students and professors to leave campus because of the color of their skin," the group's
Facebook
page said.