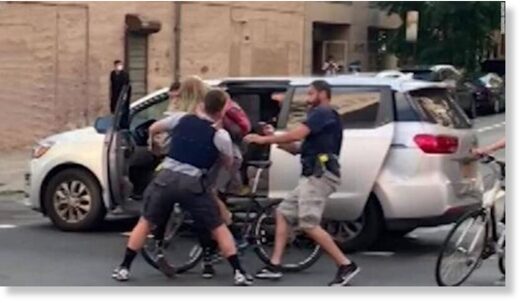 New York police dressed in shorts and T-shirts grabbed a protester from a demonstration during an arrest Tuesday and put them in an unmarked minivan, video of the incident shared on social media shows.
The tactics were quickly
compared to those of federal agents in Portland
, where local officials have
raised concerns over arrests they say are unlawful
and without probable cause as videos there have similarly shown authorities seemingly swoop in and pull protesters from the streets into unmarked vehicles.
The New York Police Department
said in a statement
after video of the arrest was shared widely that the person taken into custody was wanted for allegedly damaging police cameras in five separate incidents. The department said it was its Warrant Squad that made the arrest Tuesday.
"The Warrant Squad uses unmarked vehicles to effectively locate wanted suspects," NYPD tweeted.