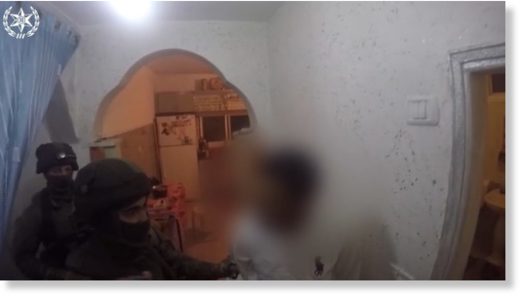 Ahmed Jabbis, 21, and Basel Abidat, 19, were arrested based on concrete intelligence about their planned attacks.
Israel Police released footage on Wednesday of the arrests of two residents of the southeastern Jerusalem neighborhood of Jebl Mukaber who were indicted on terrorism charges in a Jerusalem court on Sunday after they allegedly planned terrorist attacks on military and civilian targets on behalf of
Islamic State
in Jerusalem on Independence Day.
"On the night of October 28, 2019, dozens of Border Police officers raided two houses simultaneously in the village of Jebl Mukaber," said an undercover Border Police officer who oversaw the operation. "This was a planned operation. We had information about the location of the accused, and as soon as conditions allowed, we detained them.
"According to the indictment, Jabbis and Abidat were active on ISIS-affiliated websites beginning in 2016, which spread the group's religious and political messages as well as provide instructions on how to assemble bombs to carry out attacks.