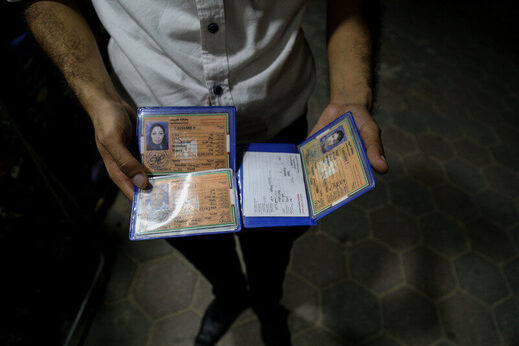 Khadija al-Najjar flipped through pictures of her children and grandchildren, growing more and more agitated.
Some of her children now live in Europe or North America. But Khadija, 72, cannot visit them.
She does not hold and cannot obtain a Palestinian ID even to attempt to go and visit. Without one, she has no papers to allow her passage.
She is not alone. There are an estimated 5,000 Palestinians in Gaza, according to the Palestinian Authority's ministry for civil affairs office there, who share her predicament.
Israel stopped distributing ID cards meant for residents of the coastal strip after 2007
, when Hamas took sole control of Gaza from Fatah after winning the previous year's parliamentary elections.
Khadija and her husband, Muhammad Issa al-Najjar, live in the al-Rimal neighborhood of Gaza City. Muhammad was born in 1945 in Masmiya al-Kabira, a Palestinian village in the then-Gaza district (now on the Israeli side of the boundary) that was forcibly depopulated and largely destroyed in the Nakba of 1948.